Cinema carinziano
In the last years Austrian Film has gained astounding recognition from International Festivals. What is rarely noticed that this "Austrian film wonder" is supported by a lot of people that originate from Carinthia as many of them had left their homeland for lack of proper working possibilities.
"Kino aus Kärnten" – initiated by Prof. Arno Russegger, wants to highlight this fact by showing cinematic works with Carinthian participation. Every film is followed by discussions with the filmmakers about their professional and artistic situation, how the film production has developed and about future projects.
Lassnitz
Hans Schabus | A 2012 | 76´
Friday, November 23rd, 5:30 pm, Stadtkino Villach
At the center of the film stands a railway bridge – 5.6 meters wide, 3.53 meters high, 24.5 meters long and 78 tons of weight – that makes a long journey from the southeast of Austria to the northwest of Germany. In long takes, the observer becomes part of a sedate curtain. Time becomes noticeable and decelerates with the continuation of events. Over several nights, the transport crosses Europe, putting the brakes on hectic traffic, as if a fossil from another time wanted to prove itself again for the present.
du und ich
you and I
Ruth Rieser | Austria 2011 | 103´
Saturday, November 24th, 5:30 pm, Stadtkino Villach
The story of physically challenged Hiltraud and her non-disabled partner Franz finding the love of their lives. Filmed over a period of 6 years with long phases of intensive work on the film project. At the end, there is the certainty that dreams can come true. For Hiltraud, Franz – and for everyone who believes in themselves.
WHAT IS LOVE
Ruth Mader | A 2012 | 80´
Sunday, November 25th, 11:00 pm, Stadtkino Villach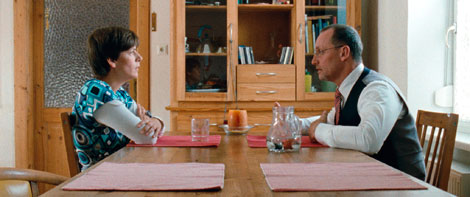 This film is a portrait of life, a portrait of people with varying life plans. It asks the meaning of life, about how to fill the gap between birth and death, and what is happiness. Short documentary pieces tell the stories of some very different protagonists of a generation: from the forest-owning family in their stately home to the factory worker following her daily routine.
25 novembre 2012, h. 15.00, Parkcafé Villach
A long-time goal of "Kino aus Kärnten" is to re-establish a proper, independent film fund for Carinthia. At a public podium the requirements of this fund are presented but also, what steps can and should be taken in the meantime.