Sun: Bob Ostertag live in concert
A secret highlight of this year´s K3 Festival is one of the rare solo-concerts of Bob Ostertag (San Francisco, USA).
Date: Sunday, July 4th, 2010
Starting time: 9.30 pm right after the presentation of the K3 Short Film Award.
Location: Parkcafé, Villach
Access with the K3 Festival Pass (will be available at the entrance too)
Bob Ostertag's compositional approach is cinematic. The assembling of sound elements into a musical unit is similar to the process of film editing: Ostertag doesn't combine or compress to an aimless mashup, he joins his material on a timeline. And in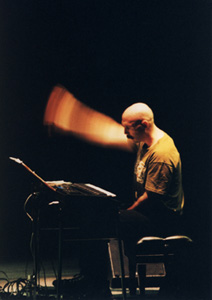 the game of changing direction, veering off at any time (to hit hooks), expanding space and time, he is proficient like no other. By his musical origins, New York´s No Wave and Free Jazz Scene of the early 1980s, he is strongly enough influenced so that he is able to do his music without decoration and embellishments such as space and narrative elements.
So we hear art. Not commerce.
Ostertag's instruments, mainly sampler, have changed little over the years, analogue became digital by the time. The list of his musical collaborations is diverse and beyond all categories: Kronos Quartet, Anthony Braxton, John Zorn, Mike Patton. A link to the media guerilla group The Yes Men is also ascribed to him.

At the K3 international Short Film Festival Villach Bob Ostertag gives one of his rare concerts in Europe. He will be present during the whole festival.