K3 Publikumspreis // K3 Audience Award
16.00 Uhr Stadtkino
17.00 Uhr Parkcafé Villach
freier Eintritt // free admission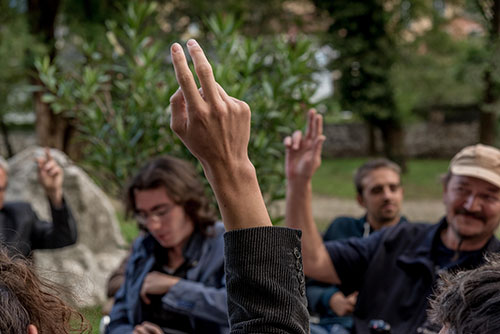 Der K3 Publikumspreis wird auf eine wohl weltweit einzigartige Art und Weise verliehen: Nicht durch eine anonyme Stimmzettelwahl, sondern in einer offenen Diskussion mit dem Publikum! 
Zuerst darf das Publikum unmittelbar nach den Kurzfilmprogrammen mittels Stimmzettel seine Favoriten bestimmen. Die drei Filme mit den meisten Stimmen werden am Sonntag, dem 25. September, um 16.00 Uhr bei freiem Eintritt noch einmal im Kino vorgeführt. 
Danach wird um 17.00 Uhr ins Parkcafé zur Diskussion geladen. Das werte Publikum ist die Jury und kürt in einer gemeinsamen Diskussion den Gewinner des K3 Publikumspreises, dotiert mit € 800,-!
// The K3 Audience Award is awarded in a very special way, probably even in a worldwide unique way: Not by an anonymous vote, but in an open discussion with the audience! At first the audience can anonymously vote their favorite short film after each programm. The three films with the most votes are shown again on Sunday, September 25th at 4pm in the cinema and serve as an inspiration for the subsequently open public discussion at 5pm in Parkacfé Villach: The best argument indicates the winner of the K3 Audience Award.