FRESH UP!
Frisch, frech, ehrgeizig und engagiert, das sind die Kurzfilme, denen wir ein eigenes Programm außer Konkurrenz bieten.
// Fresh, cheeky, ambitous, and very committed are the short films in this special programme section.
FRESH UP!
Kurzfilme – außer Konkurrenz // Short Films – Out of Competition
Freitag, 15. Dezember 2017, 17.30 Uhr
Länge // Duration: ca. 73 Min.
D WIE DOSTOJEWSKI // D FOR DOSTOJEWSKY
Jaqueline Rauter – A 2017, 23'40''
Original version (German) with English subtitles
Weltpremiere // World Premiere
Region: Carinthia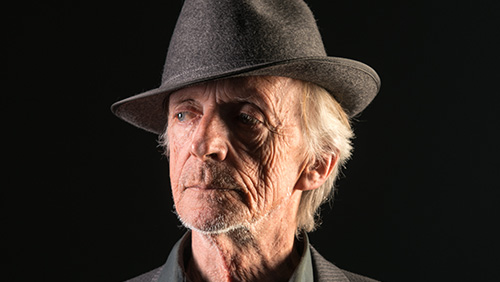 Director, producer, screenwriter: Jaqueline Rauter
Director of photography: Peter Jocham
Key Cast: Gerhard Leeb, Marleen Osinger
Ein Zug fährt ein. Ein alter Mann betritt den Bahnsteig und damit eine Stadt, die er nicht kennt und deren Sprache er nicht spricht. Alles, was er besitzt, trägt er am Leib. Seine Mission: eine Aufenthaltsgenehmigung zu bekommen. Demütig und voll Trauer, aber dennoch voll Hoffnung, begibt er sich für die nächsten Stunden auf eine Reise, die bepackt ist mit Niedertracht und Enttäuschungen, gleichzeitig mit Menschlichkeit und Güte. Die Zahl "37.501" wird zu seinem Schicksal. Ein kleines Mädchen bringt Hoffnung und wird ihm zur größten Stütze in seinen schwersten Stunden. Was bleibt, ist ein Roman von Fjodor Dostojewski. Was kommt, ist ein Brief, der Schlimmes offenbart.
// A train is coming. He is old, and he has nothing more to lose than the clothes he is wearing. A stranger in the city of hope. The mission: get a residence permit. In a few hours he experiences happiness, grief, hope, humility and disappointment. The number "37.501" becomes his destiny. A little girl brings new strength and hope. What remains is a novel by Fjodor Dostojewski. What comes is a letter that reveals evil.
GRENZEN // BORDERS
Thomas Guggenberger – A 2017, 5'
Original version (German) with English subtitles
Kärntenpremiere // Carinthian Premiere
Region: Carinthia
Als Stefan seinen Job verliert, projiziert er seinen Ärger und seine Frust auf Flüchtlinge. Zur selben Zeit lernen wir Amir kennen, der nicht weiß, wie er mit der Xenophobie umgehen soll. Bis die beiden zufällig zusammentreffen.
// As Stefan looses his job, he projects his anger to refugees. At the same time Amir doesn't know how to handle xenophobia, until they meet randomly...
INSIDE OUT
Olivia Valentina Hohm – A 2017, 1'32''
Region: Carinthia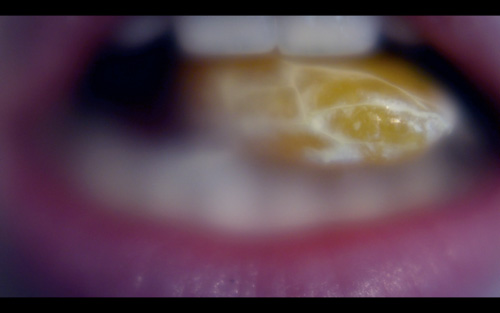 Der menschliche Körper ein herausragendes Werk der Natur. Zahlreich sind seine Funktionen, so vielfältig ist seine Erscheinung. Dies wird in kurzen, präzise geschnittenen Aufnahmen betont – das Wunder Mensch mit Haut, Haaren, Muskeln. Ein weniger angenehmer Anblick, der uns augenblicklich an Schmerz und Verletzungen erinnert ist das Blut – dennoch ist es ein unverzichtbarer Bestandteil des Körpers …
// The human body is an exceptional work of nature. It comes in many shapes, and has got a lot of distinct functions. This is emphasised in various, precisely cut shots: the human miracle with skin, hair, muscles. While not being a pleasant view, blood is the essential life-force for the body, even though it reminds us of pain and wounds …
TABULA RASA
Cristina Baldino –I 2016, 15'
Original version (Italian) with English subtitles
Österreichpremiere // Austrian Premiere
Region: Friuli-Venezia Giulia
Ein brandneues Produkt ist gerade dabei, den Markt zu erobern: Goldene Pillen, die es dem Konsumenten erlauben, sichere, vorproduzierte Träume zu erleben. Wie jeder andere auch ist auch Alex ein regelmäßiger Konsument dieser Pillen, doch wegen einer Unverträglichkeit ist er gezwungen sie abzusetzen. Nun wieder am Boden der Tatsachen angekommen, muss er sich mit unerwarteten Konsequenzen auseinandersetzen.
// A brand new product has hit the market: golden pills that allow consumers to have safe pre-made dreams. Like everybody else, Alex takes them regularly but due to an inconvenience he is forced to quit. Brought back to reality, he must deal with unexpected consequences.
FRIÚL REVOLUTION
Marco D'Agostini –  2016, 20'
Original version (Italian) with English subtitles
Österreichpremiere // Austrian Premiere
Region: Friuli-Venezia Giulia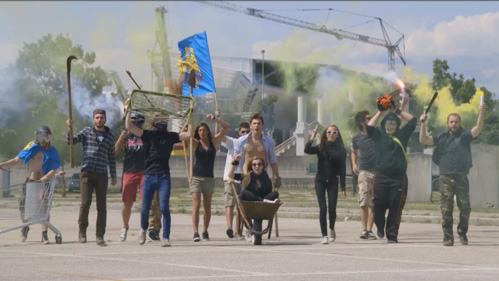 Drei junge Leute machen sich in einem Van nach Friaul auf, um herauszufinden, was die dortige Gesellschaft so treibt. Sie werden Zeuge einer revolutionären Bewegung, die aus der wirtschaftlichen, politischen und kulturellen Not des Landes entstanden ist. Davon mitgerissen, begegnen sie dem Revolutionsführer Abele Pelvio, der das Volk aufstacheln will. Doch kann in Friaul eine Revolution überhaupt stattfinden, oder ist alles nur heiße Luft?
// Three young people leave aboard a van to find out what the Friulian society is doing. In short, they will witness a revolutionary mobilization, so that they are overwhelmed and become part of it. In a disorganized Friuli, a martyr of a crisis has hit the whole country economically, politically and culturally, the revolution of "popul salt, onest and lavoradôr" was born. Abele Pelvio, a revolutionary leader, appears ready to arouse the Friulian people. Will the possibility of a revolution in Friuli exist or not?
MACHETE ULTRA
Fabian Mußnig – A 2016, 9'50''
Original version (Italian) with English subtitles
Weltpremiere // World Premiere
Region: Carinthia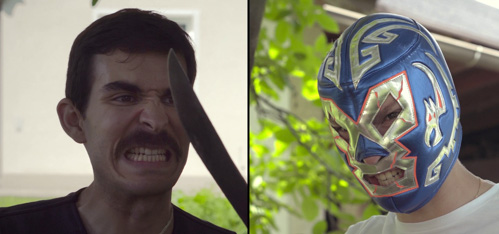 Machete, eine echte Kämpfernatur, und sein Sidekick Chico sind beste Freund mit dem Technikgenie Hermano. Als Hermano jedoch stirbt, müssen sich die beiden Kämpfer einem mysteriösen Gegner stellen, wodurch eine seltsame Reise beginnt.
// Machete, a true warrior by nature, and his sidekick Chico are best friends with the tech genius Hermano. However, when Hermano dies, the two fighters have to face a mysterious enemy and embark on a strange journey.