K3 LJUBLJANA program
Programme of K3 Festival Ljubljana
MONDAY, 25. Avgust: PRE-EVENT

Platform SEM
20.00  Uverture: Short Documentaries by Luksuz Production

WEDNESDAY, 27. Avgust

Slovenian Cinematheque
19.00  Festival Openning
            Retrospective: Krsto Papić I
20.00  Round Table: Short Film Now and Then
21.00  Competition Programme I 

THURSDAY, 28. Avgust

Slovenian Cinematheque
19.00  Retrospective: Krsto Papić II

Platform SEM
21.00  Competition Programme II
23.00  Carte Blanche: Cinema Next - Young Austrian Film


FRIDAY, 29. Avgust
Slovenian Cinematheque
17.00  Omnibus I: Three Contributions to the Slovenian Madness (Slovenia, 1983, 100')
19.00  Omnibus II: Desperado Tonic (Slovenia, 2004, 71')

Platform SEM
21.00  Closing of the Festival: 
            Best of K3 Festival (2011 – 2013)
           
Sk8 Park Rog
23.00  Festival After Party 
            Short Sausages




//// PROGRAMME IN DETAILS ////


Uverture: Short Documentaries by Luksuz Production



Living High
Kaja Vrhovec Andrić, Jasna Merklin, 10'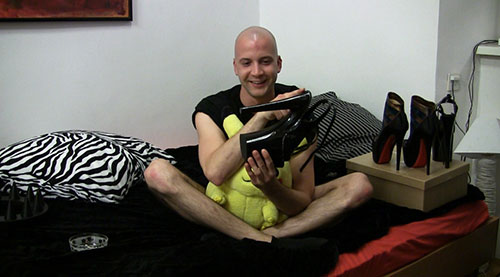 They are stepping above the ground, but that doesn´t mean that they look down on others. Maybe sometimes someone looks down on them. Especially if the one, who wears high heels is a man. What does the shoe with high heel give you, which no other shoe can? Why endure the pain and torture yourself a bit every day? A little pain apparently feels good, says one of them, while others, that is simply worth it, because you become taller, stronger and more confident. So centimeters apparently do count.Documentary about high heels reveals that usual sometimes is not so usual and that in the simplest things like a piece of wardrobe, are hidden the boundaries of society.


Fekolog
Gordan Golubović, Florence Guenaut, Linda Fernades, 14'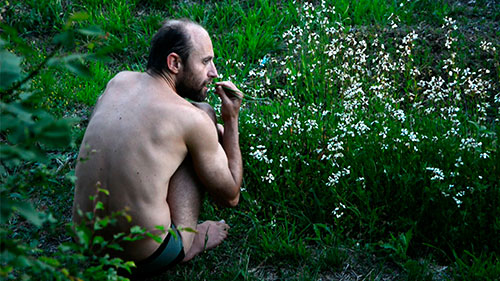 According to his followers, he's a visionary. Nara Petrovic claims he's a fekolog. Living with his mother in trailers,
going barefoot for years, his existence is guided in every respect by ecological and physiological pace. Away from barren exploration of our environmental quagmire, the organic pattern of Fekolog starts and ends with Nara's faeces. Few words, no theoretical statements; but an anthropological insight in his a primordial oikos. 



XYX
Aliaksandra Ihnatovich, Kato Drobysh 4'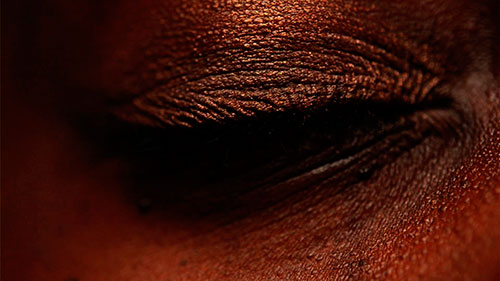 What is human body? Why some parts of ours bodies we consider to be attractive and some we are ashamed of? What does the perception of our own bodies depends on and whom our bodies belong to? The "XYX" is an audiovisual journey to the body, its cultural perception, its visionary and physical shape and texture. It opens up the interrelation between sexuality and the body through visual investigation of taboo bodily imaginary, queering normative sexual images, tending to transgress the very notion of visual pleasure and sexualized vision of body.



Uncovered Hands
Edina Mehić Silić, Andrea Celija 13'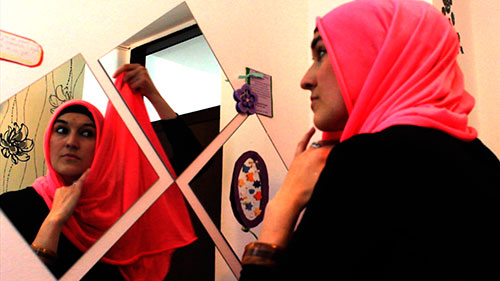 Jesenice, a small industrial town in Slovenia. An improvised choral of women knitting craftworks, full of color as the flashy pink hijab that carry Edina, the responsible of the organisation Up, where they meet."Uncovered Hands" reveals the intimacy of those immigrant persons through a beautiful initiative for social insertion...



Pola-pola
Florence Guenaut, Eva Matarranz, 9'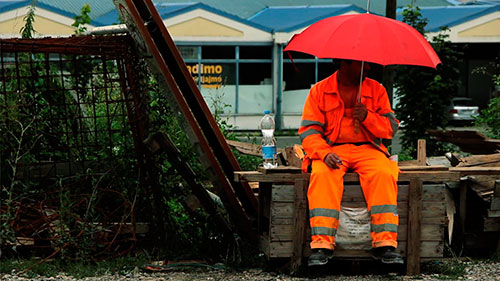 It is a working day in the summer. Macedonian, Bosnian and Albanian workers are building the new Slovenian railway.



Knitted Fight
Marion Trotté, Aliaksandra Ihnatovich, Kato Drobysh, Florence guenaut, Eva Matarranz, 16'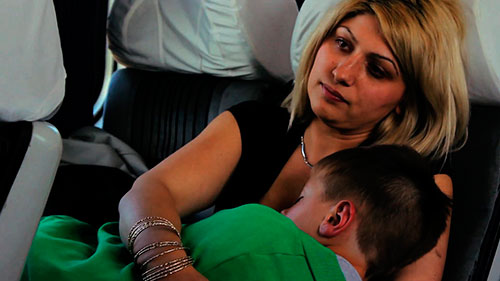 She's from Roma community and she's an activist. She's young, sexy and she's a mother. She took her story in hand and go straight ahead. Jasmina is not a victim, but a fighter.




Never Flew Before
Kato Drobysh, 16'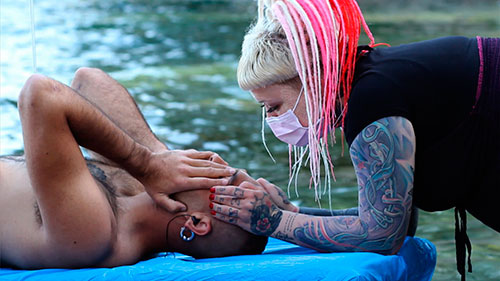 Hooks drilled throughout the skin, hanging over the rustling waves. Almost as a whisper, the voice of those who suspend, try to give words to an experience which is "not the most painful, but the most intense". Led with love by a tattoo covered lady, the suspension looks like a medical procedure.  In Never flew before, body is a continent which borders can be transgressed.



Alida, You Walk!
Petra Leverić, Andrea Celija, 13'




Alida had a cerebrovascular accident. Before the stroke she used to work in her garden, to dance on roma songs. Her surrounding & herself remind the accident and a long process of reeducation with emotion.



Kino Odeon
Vesna Klančar, 12'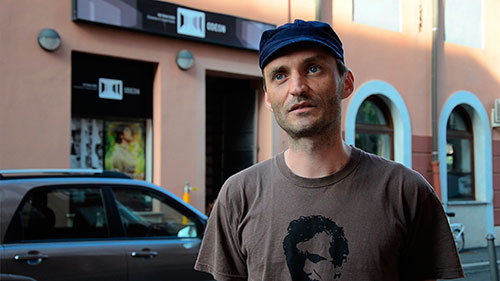 Kino odeon, a respected old screen in the slovenian sea-side. The Kino odeon is nowadays an active Art house, supported with passion by its director, programmer, projectionist; and a faithful public. As much people that carry the most fragiles movies through an extremely competitive diffusion system. Encountering the economic challenge for such movie theater, but also its social and cultural ambition : giving people to watch movies, and giving movies a life by talking about them.



Chak de Silvia
Marion Trotté, 12'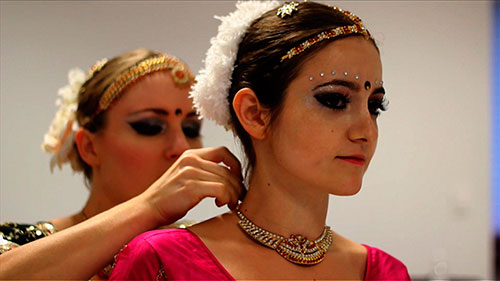 Silvia is working in an indian restaurant, she likes to dance like in indian movies, and she prefers indian men. Through four chapters of her life, colorful and rythmic, Chak de Silvia is the portrait of a young woman and her early passion for the oriental world. Playing with marvelous fabrics, behind her ravishing smile, she shares an individual and courageous personal story. 



Hrana Anarh
Aliaksandra Ihnatovich, Kato Drobysh, 9'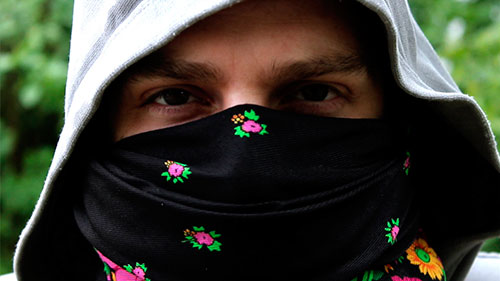 They gather, they cook, they share. They are anarchists. Supporting the international movement Food not Bomb, their behavior represents a direct refusal to major outlets and governmental regulations concerning the food access. Because our society rules provides supermarket with full storage while individuals are staying empty stomach, what HRANA ANARH implements is no more a speech but an ATTITUDE toward food wastage and capitalistic grabbing of the alimentary goods.



God's Mistake
Eva Matarranz, Anna Savchenko, Catarina Leal, 23'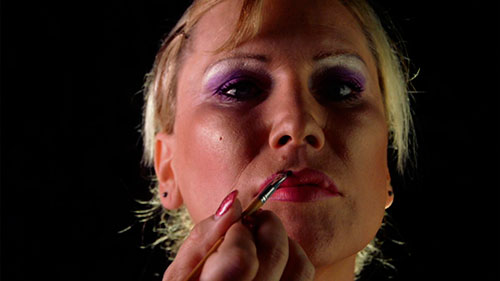 Eyeshadow palette in rainbow colors. A blond woman starts speaking about her childhood in Yugoslavia, as she was still, in everyone's eyes, a little boy. Psychiatrists' threats, military service, school mother or religion didn't bridle her conviction to be born in the wrong body. Against her family and institutions, at 40 years old Salome enters a complicated surgery process to became a –biologic- woman.


Retrospective: Krsto Papić I

Halo München   
Krsto Papić, Croatia (Yugoslavia), 1968, 35mm, 1.37, bw, 11', ss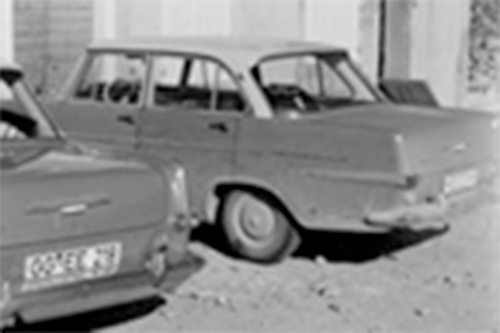 This classic documentary deals with migrant workers returning back home and their relationships with the ones who never left Dalmatia.  After coming back home, they build big houses, drive expensive cars and resell western technological equipment.
A Knot                                                                
(Čvor), Krsto Papić, Croatia (Yugoslavia), 1969, 35mm, 1.37, bw, 11', ss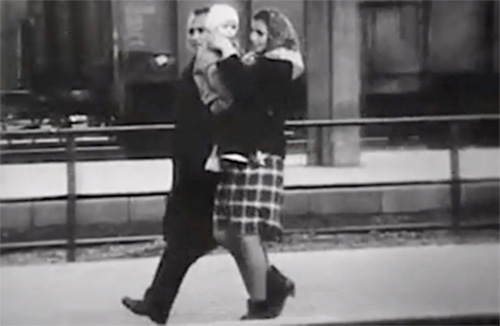 Two separate images of a train station in Vinkovci. The first, miserable one is composed of statements of poor passengers, who tell stories about their pathetic lives set in difficult social circumstances. The second image is a collage of kitschy descriptions, seen by the employees of the station. 
When You Are Stabbed By My Knife
(Kad te moja čakija ubode), Krsto Papić, Croatia (Yugoslavia), 1969, 35mm, 1.37, bw, 17', ss
People living in small villages around a Bosnian town Tuzla are still very much accustomed to settling their disputes in a violent manner, using cold weapons. Reasons that lead to murder are often extremely bizarre.
Let Our Voice Be Heard
(Nek se čuje i naš glas), Krsto Papić, Croatia (Yugoslavia), 1971, 35mm, 1.37, barvni, 16', ss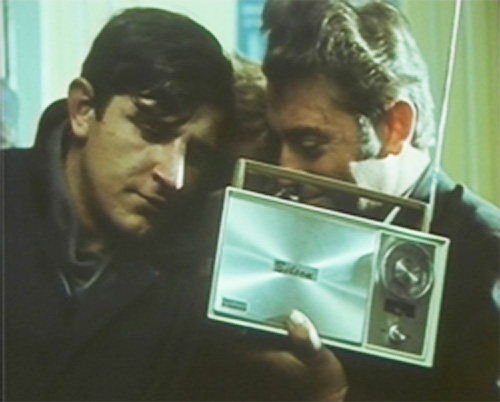 A story about an illegal village radio station, which gives voice to the ignored rural parts of Croatia. 
Retrospective: Krsto Papić II


A Small Village Event
(Mala seoska priredba), Krsto Papić, Croatia (Yugoslavia), 1972, 35mm, 1.37, color, 18', ss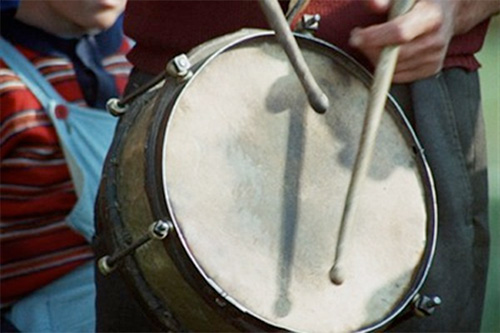 The villagers of Orahovica are throwing a party. Different local musicians are singing all the popular fun melodies, the members of the folklore society dance, and in the end the professional committee chooses the village beauty of the year.
Special Trains 
(Specialni vlakovi), Krsto Papić, Croatia (Yugoslavia), 1972, 35mm, 1.37, bw, 15', ss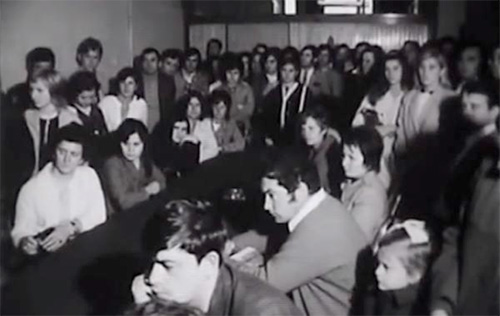 The health committee of the Federal republic of Germany, which is in session in Zagreb, thoroughly examines all Yugoslav candidates for working abroad. Every train to Germany is patrolled by a Yugoslav social worker. The emigrants riding the train are telling their stories and reasons for going abroad.
A Small Travel
(Jedno malo putovanje), Krsto Papić, Croatia (Yugoslavia), 1976, beta (shot on 35mm), 1.37, color, 15', ss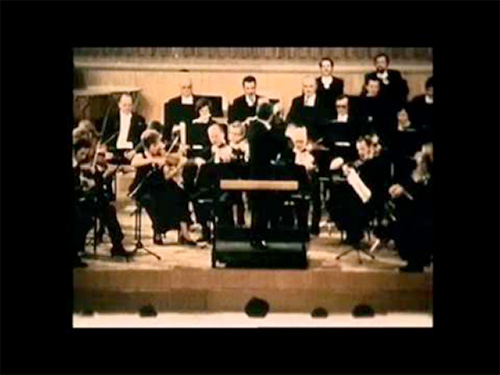 Children from Zagorje are taking a train to see a classical concert that is being held in Vatroslav Lisinski hall in Zagreb. The film follows the travel of one of the boys, him enjoying the music and finally his return home. 

Competition Programme I



Film Reel 55
Nika Autor, 2013, experimental, 31'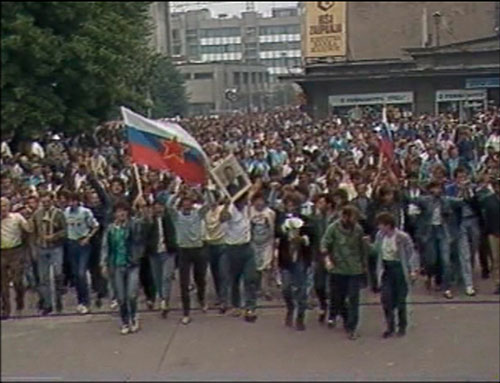 Film Reel 55 is a collage of quotes, archive videos and videos of topical affairs spatially connected to ex Socialistic federative republic of connected to ex Socialistic federative republic of Yugoslavia, with an emphasis on city Maribor, third biggest industrial center. The discussed topic raises questions connected to social and political shifts in the twentieth century, which dictated the city's economic, political and social dynamic. The city of occupation, the city of industrialization and deindustrialization, the city marked by the fall of common state, war and crisis. These are eras seen through the eyes of a generation, who grew up on the brake of two systems. We were interested in how an image, its power and its effects help us agitate and raise questions about class fight in this day and age. Film Reel 55 je a collective piece, agitated, edited and put together by Nika Autor, Marko Bratina, Ciril Oberstar and Jurij Meden. 



We are Holywood
Diego Menendes, 2013, fiction, 14'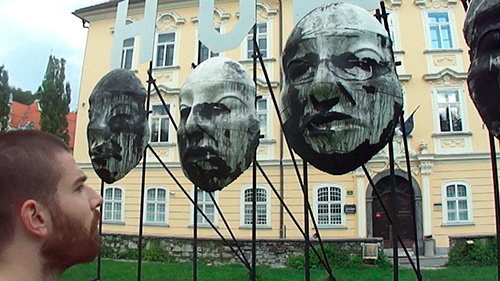 Where is the link between political stars and movie stars? Where are politics and art connected? A young filmmaker is trying to uncover this irony.



Diego Menendes RIP it After Him
Peter Bizjak, 2013, experimental, 5'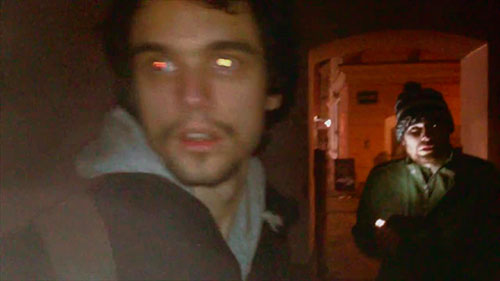 A young man in a search of identity in a threatening atmosphere of protests and consumerism.  A tribute to a "dead" Slovene director Diego Menendes.



The Progress
Mitja Manček, 2012, animated, 6'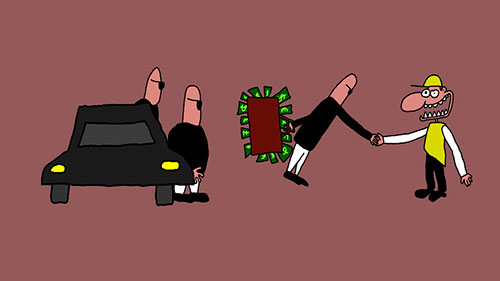 A man is driven into seduction, that offer him easy money, bigger pleasure and better life, but his choices affect his surroundings, which are very much his business.



Laibach - Eurovision
Maja Prelog, 2014, music video, 5'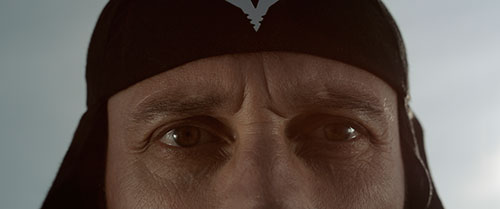 Eurovision is a vision about the fall of Europe through the eyes of a legendary Slovene music group Laibach. Iconography of postindustrial town and devastated landscape foretells and warns us about catastrophic consequences of human greed.


It is not the Sun that Goes Around
Marko Kumer Murč, Nina Cijan, 2014, experimental, 5'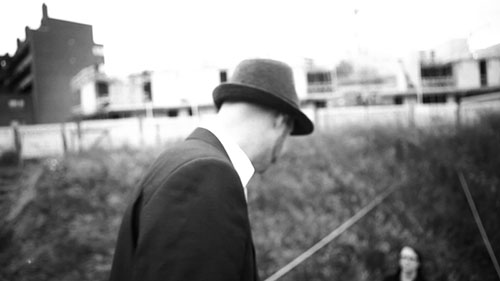 In 2013 Marko Kumer – Murč and Nina Cijan made a short film based on a poem It is not the sun that goes around (originally titled HET IS NIET DE ZON DIE ROND ONS DRAAIT) written by a Belgian poet Bardthesquejem Jacquesom, who also coauthored the film shot in Ghent, Belgium. It is a short experimental film, a "poetry video", visualization of the poet's idea, that the it a person is looking for, is always already "there".



The Runner
Nataša Čiča, Peter Cerovšek, Toma Zidić, 2014, experimental, 6'


First breath is a decision. Each subsequent breath is a struggle for a goal still not in sight. A struggle for life. He is a former professional runner. A marathon runner. He reveals his suffering, pain and effort which are a crucial elements of each and every race...


Koyaa – Flower
Kolja Saksida, 2013, animated, 4'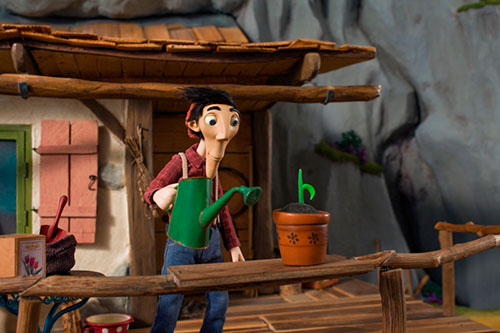 Koyaa wants to spend the beautiful morning for gardening, but his plans fail. The flower he planted doesn't grow, and then with some music influence it grows into a carnivorous monster that tries to eat Koyaa. With the Raven's help he is able to tame the raging plant and dances with it to the rhythms of tango.
Babadizaba
Ines Ozimek, 2014, animated, 3'


The Babos are celebrating. Their party is interrupted by a warning about a meteor, which they must blow up to save the planet, is heading their way. Everyone starts panicking, all the varying personalities of a silly Babo are only making things worse.


Schupakface Genesis
Gašper Antauer, 2014, fiction, 30'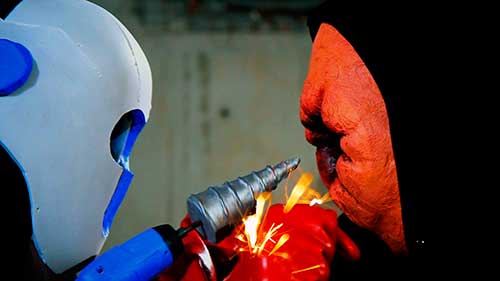 After Peter's daughter is murdered and his wife abducted by a Fakegasmic trio, Peter goes on a hopeless search of a hero Schupakface, who has been missing for several months. A witch Hermiona helps him out, and it seems she knows more about the origins of Shupakface than she lets Peter to believe. 



Competition Programme II


Finished Movie
Peter Bizjak, 2011, fiction, 5'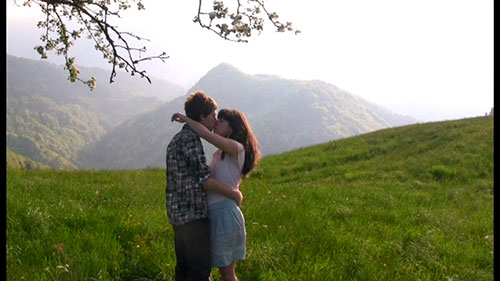 A guy masturbates to meet the girl of his dreams.



Fak Ju
Fabris Šulin, 2014, fiction, 18'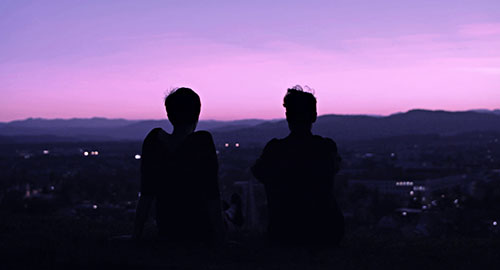 Two students meet in Ljubljana and they fall in love.


Tell Me
Domen Lo, 2014, animated, 5'


Tell me is a short animated film about an insecure love story in a surrealistic train. It was made in a six months range, written, drawn and animated by one person, Domen Lo, as a finishing project for masters studies of illustration.


Hrana Anarh
Aliaksandra Ihnatovich, Kato Drobysh, 2014, documentary, 9'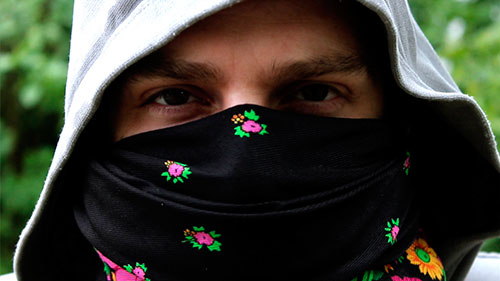 They gather, they cook, they share. They are anarchists. Supporting the international movement Food not Bomb, their behavior represents a direct refusal to major outlets and governmental regulations concerning the food access. Because our society rules provides supermarket with full storage while individuals are staying empty stomach, what HRANA ANARH implements is no more a speech but an ATTITUDE toward food wastage and capitalistic grabbing of the alimentary goods.


Fekolog
Gordan Golubović, Florence Guenaut, Linda Fernades, documentary, 14'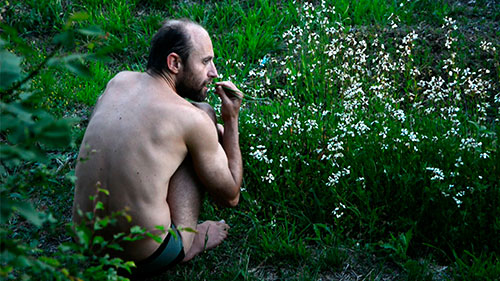 According to his followers, he's a visionary. Nara Petrovic claims he's a fekolog. Living with his mother in trailers, going barefoot for years, his existence is guided in every respect by ecological and physiological pace. Away from barren exploration of our environmental quagmire, the organic pattern of Fekolog starts and ends with Nara's faeces. Few words, no theoretical statements; but an anthropological insight in his a primordial oikos.


Food Fetish
Miha Šubic, 2014, fiction, 9'


A student of film direction is in a search of a perfect actress for his next film project.


XYX
Aliaksandra Ihnatovich, Kato Drobish, 2014, experimental, 4'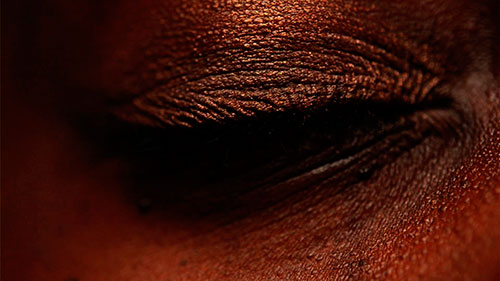 What is human body? Why some parts of ours bodies we consider to be attractive and some we are ashamed of? What does the perception of our own bodies depends on and whom our bodies belong to? The "XYX" is an audiovisual journey to the body, its cultural perception, its visionary and physical shape and texture.  It opens up  the  interrelation  between  sexuality  and  the body  through  visual investigation of taboo bodily imaginary, queering normative sexual images, tending to transgress the very notion of visual pleasure and sexualized vision of body.


Summer09
Leja Hočevar, 2013, experimental, 4'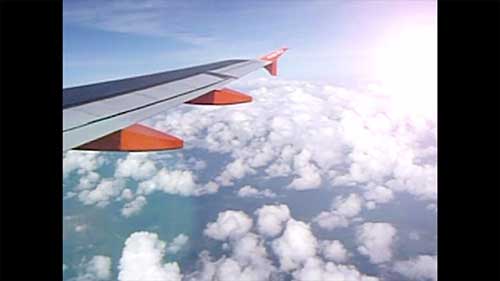 The video was made on a travel around Spain, more exactly in Madrid and Barcelona. The main idea of the video is the usage of a video camera instead of a photo camera, for recording all the memorable little events that happened while traveling. The video doesn't have any dialog and it reminds us of a music video.


Renato's Plan
Anja Medved, 2014, documentary, 17'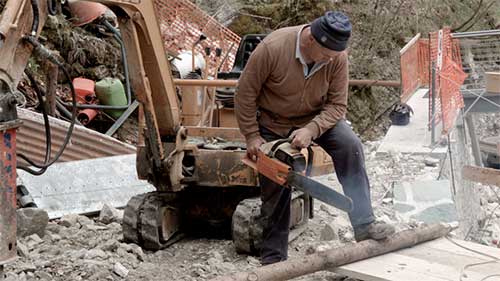 Renato "Collovet" Borghi has been fulfilling his dream for the past thirty years: he is taming the torrent and building cargo lifts so he could build a small hydroelectric power plant in his small village all by himself. He is a man moving mountains and with that creating epic poetry.


Them
Darko Štante, 2014, fiction, 14'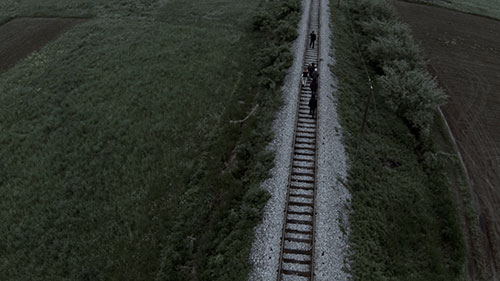 In a decaying world, destructed by undefined creatures called Them, a group of refugees bonds together to survive. Cal, the group unofficial leader is bothered by another concern. His wife Becky is very sick. And Cal will do anything to prevent Them from getting to her.



Busker
Mitja Mlakar, 2014, fiction, 9'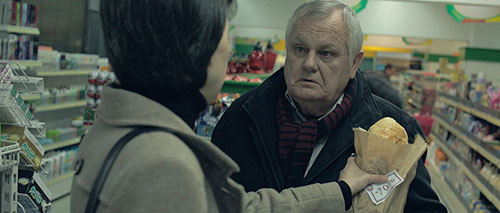 In the middle of everyday hustle and bustle similar faiths meet.


Trus! - What Do You Do
Katja Petelin, animated music video, 2014, 4'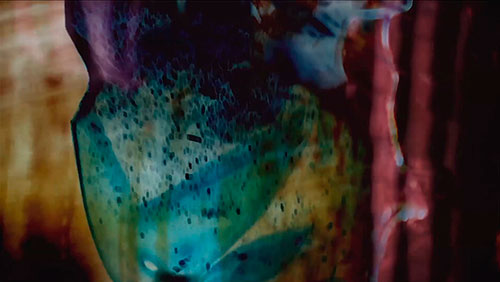 Experimental animation made as a video for a music group Trus! is constructed by scratching and coloring super 8 film. The film was put into the projector and was used for shooting the projection. For 15 seconds instead an actual film, a home- made film (made from foil, and later cut, colored and burned) is being played. The shots are slightly digitally treated and of course synchronized with music. 

Carte Blanche: Cinema Next - Young Austrian Film


Our Song
(Unser Lied), Catalina Molina, 2012, 29',es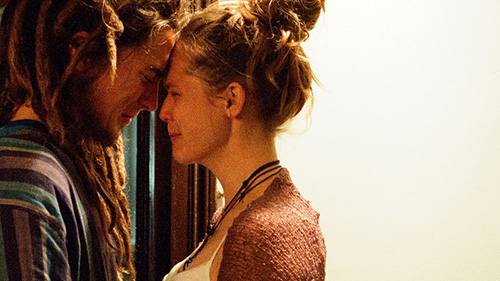 A young Reggae musician lives with his little daughter with no mother around. Financially, he is doing fine and eventually also finds a new love. But as this new romance develops, the mother of the little girl shows up again as if nothing had happenend. But for how long will this family reunion last? Best fiction short Diagonale 2012, Best short film Austrian Film Academy 2013.


adele1
Kurdwin Ayub, 2011, 5',es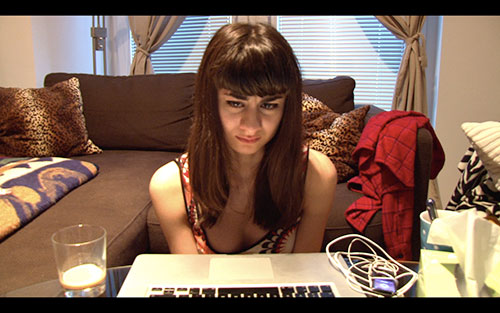 The video actually looks as though it were made for YouTube: As is common on the platform, Ayub speaks directly into the camera in the introduction, explaining that she is about to sing a song that especially suits her current situation. The song is Adele's Someone Like You, a love song, which Ayub dedicates to her (probably ex-)boyfriend. At first, she seems to be joyful, but eventually ends the song in tears.


Maybes
(Erdbeerland), Florian Pochlatko, 2012, 32', es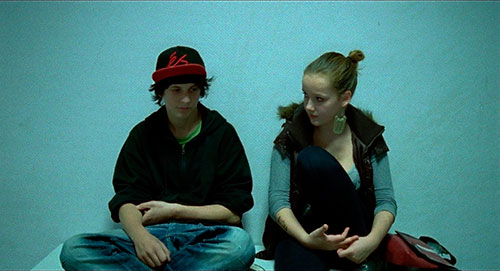 To be a teenager is sometimes very complicated. What to do with group pressure? How to approach young girls (or young boys)? And how to get through boring school classes? The young adults in Maybes show us their often loud and angry daily life, dance and boozing parties included. Best fiction short Diagonale 2013, Best short film Austrian Film Academy 2014.


MeTube
Daniel Moshel, 2013, 4',es


George Bizet´s aria "Habanera" from the "Carmen" opera finds a new interpretation in this flashy and flamboyant music video. Singer: August Schram.



Best of K3 Festival (2011 – 2013)


Phone Tapping
HeeWon Lee, South Korea, 2009,  10', es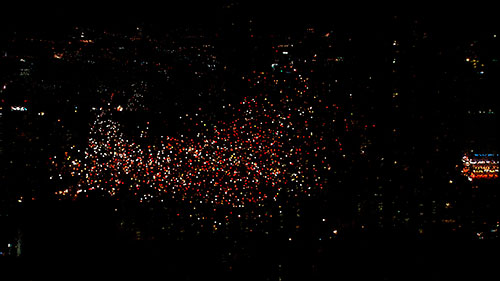 The film is built up from that single, imperceptible instant that signals the shift from day to night, a fleeting moment in which what was, is no more, where things might acquire fresh significance. A voiceover guides us through the city, while the camera seems to be searching for a specific plot of land, for the coincidence between the narrative and the visual.

2011 K3 international Short Film Award by Karpo Godina

Apele Tac - Silent River
Anca Miruna Dunga, Germany, 2011, 30', es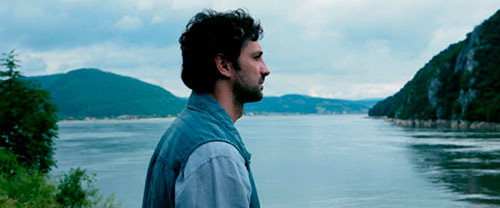 Romania, 1986: Gregor and Vali want to break away. Both depend on each other, yet there is mutual distrust. One night Gregor finds his doubts confirmed. In the end only hope is left.
2011 K3 Audience Award

DEEP END ART N°1
Ivan Ladislav Galeta, Croatia, 2012, 20´


"Go confidently in the direction of your dreams! Live the life you've imagined. As you simplify your life, the laws of the universe will be simpler." Henry David Thoreau
2012 K3 international Short Film Award by Ben Russell


Caugich's Unpredictable Fate
(L`impervedibile destino dei Caugich), Krema, Peressutti, Sabbadini, Italy, 2010, 5´, es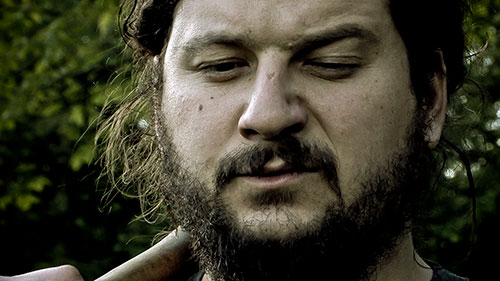 The film is the tale of the grotesque and morbid self-destructive family Caugich. The four Caugich brothers living in a spartan and lonely way, in a house in the woods. Everything goes on routinely until Sergio, the youngest one, decides to leave home to pursue his dream. In the letter he left to his brothers, the young man explains his reasons and opens the curtain on the real and disturbing attitude of the family.
2012 K3 Audience Award


Voidov
Manuel Knapp, Austria, 2012, 14´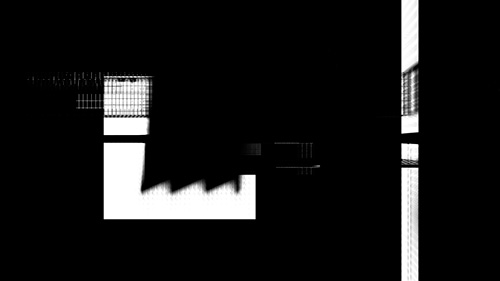 A three-dimensional sequence is generated from raw data. The rendered sequence is projected onto the original scene in the programme, rendered again, and projected once again as a shadow map. In this final step, the rendered image is also applied as a texture on the objects in the scene. This repetition produces superimpositions of light, shadow, structure, and perspective.
2012 3X3 Short Film Award


Family Portrait
Birgit Scholin, Austria, 2013, 4'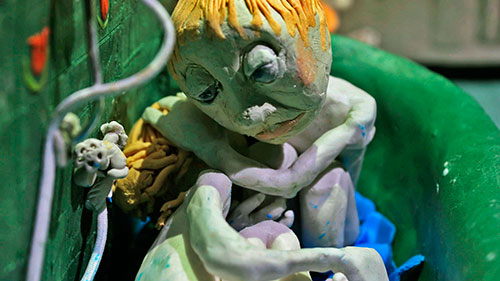 The discovery of a prehistoric grave after many years remains a mystery for some archaeologists. It consists of two women, four children and a man. Their body posture implies, that they were buried alive. The animation movie "Family Portrait" traces the story of this family and transfers it to a family bed.
2013 3X3 Short Film Award
Omnibus I: Three Contributions to the Slovenian Madness
Mitja Milavec, Žarko Lužnik, Boris Jurjaševič, Slovenia (Yugoslavia), 1983, 100'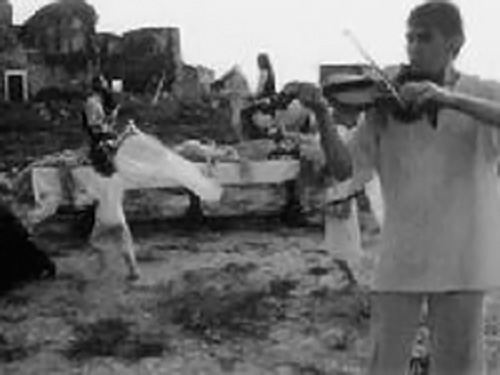 Three authors, three unconventional storries.

The Chronicles of Crime: Young Ivan witnesses a brutal fight between his parents. Some years later he is sent to a reformatory, and soon after he gets locked up in jail. The Chronicles of Madness: Emil escapes from a mental institute in a search for his wife, Olga, who is a model. The Chronicles of Revolt: Factory workers Frenk and Štefan decide to get a drink after work. They end up drinking all day in Štefan's mother's house, where all three of them get really loud and drunk and annoy the hell out their neighbours.


Omnibus II: Desperado Tonic 
Boris Petkovič, Varja Močnik, Hanna A.W. Slak, Zoran Živulović, Slovenia, 2004, 71'




Like pieces of some strange puzzle the stories of a man called Štrocki form a bigger picture of his blessed life on this Earth. Štrocki is traveling around the country as a cinema projectionist. These are the best years of his life; his generation was bold and free, they watched war movies about the partisans and they saw the advent of the television, but now they ended up amongst the vampires... A forgotten gem of Slovenian cinema, that feels like a perfect candidate for cult cinema.
Round table


Short film Now and Then
Round table will be about todays situation of short film production and its perpectives and possibilities for tomorrow. Guests are Nerina Kocijančič (Slovenian Film Center), Miha Černec (producer), Matjaž Ivanišin (film director), Karpo Godina (film director, DOP). Moderator: Igor Prassel
Short Sausages
Concert & Dj Set
12 http://1--2.bandcamp.com/album/underwater-rocknroll
SVEMIR MANGO 
DJ VLAD